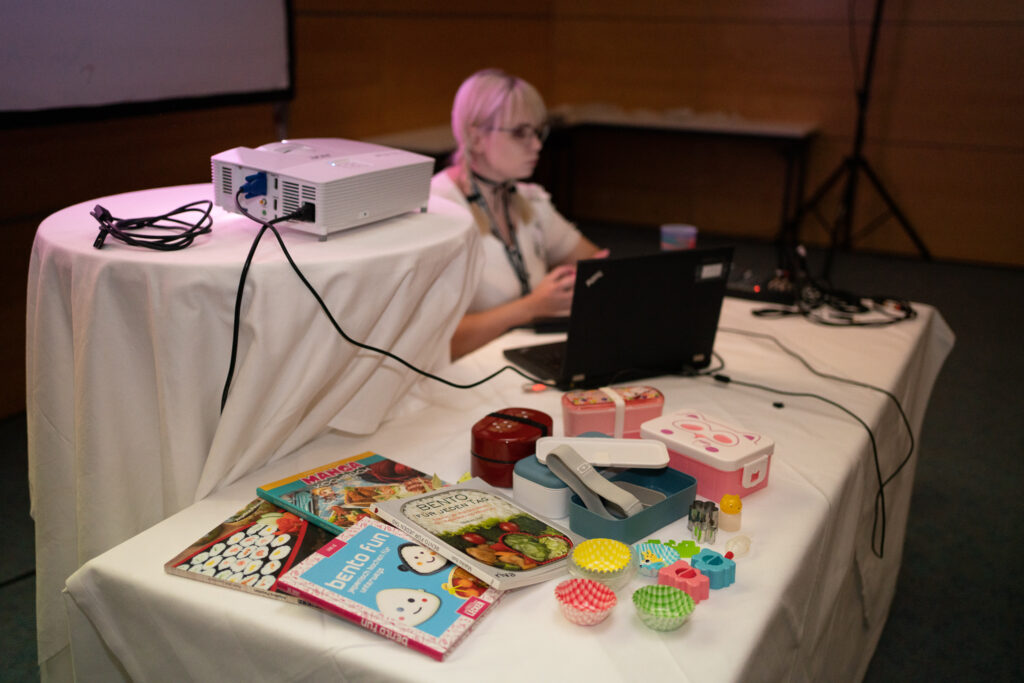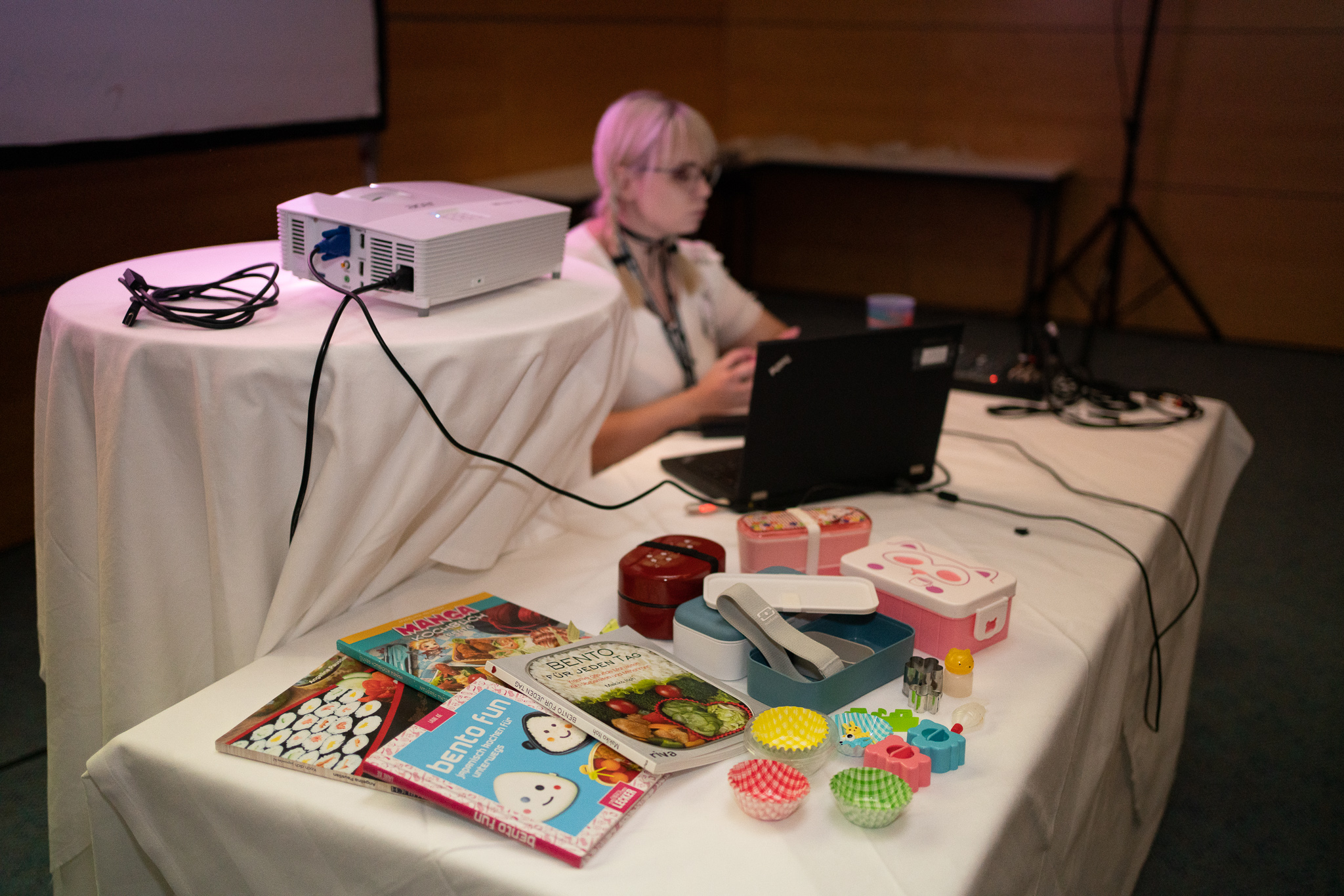 Ever wanted to know the best way to cut a wig for a cosplay? Or what to consider when preparing a delicious bento? Then the panels & workshops at AniNite are just right for you!
Over three days, you can not only expand your knowledge about Japan and Japanese pop culture in panels, but also acquire practical skills in workshops. The great thing is that these panels and workshops are led in part by masters of their field to simple fans.
Workshops
Here you can find out which workshops will be offered at AniNite this year. Attention: The times can still change. More information about the workshops will follow 🙂
Click here to download the schedule.
Friday
Create necklaces from Schwarze Katze
Create your own necklace with UV resin. Per chain a contribution towards expenses of 8€ is to be paid. maximum 12 participants Duration: approx. 1 1/2h.
Pattern making by MilkyRosa
As a cosplayer you depend on using authentic fabrics for your cosplays. But what if these are not available for purchase? In this workshop, I'll give you insight into creating patterns and show you how to design them for fabric printing and what to look for when printing. Together we'll create a traditional pattern repeat and you'll get a list of fabric print shops and their assortment. No previous experience is necessary. There is a contribution towards expenses of 5€ per person. Max. 15 participants Duration: approx. 2h.
K-Pop Dance Workshop by UNLXMITED
Dive into our world of K-Pop! In "UNLXMITED's Ultimate K-Pop Madness – A Cover and Performance Guide", we take you behind the scenes of our K-Pop adventure. We'll reveal our best tips and tricks for rousing performances and show you how to start your own K-Pop cover group. Together we'll rock the stage for 1 ½ hours, laughing, dancing and making K-Pop dreams come true. Be there, feel the vibes of UNLXMITED and let's dive into the world of K-Pop together! Duration: approx. 1 1/2h
Crochet Workshop by SimoBastelt
Here everything has a hook! – Amigrumi All beginnings are difficult. Together we dedicate ourselves to the first steps in (Amigurumi) crochet. You are enthusiastic about the many little crochet animals and dolls? But you only know crochet from handicraft lessons at school and haven't tried it since, so your skills are rusty by now? The only thing you made back then were potholders? Then this workshop is the right thing for you. I will show you the basics and introduce you to different techniques and materials. So you can try everything at home, you get your own start package for a small donation. You will get more tips from me on Discord, where you can ask me questions and present your work in my craft group at any time. There is a contribution towards expenses of 10€ per person. Number of participants: maximum 10. duration: approx. 1h
Saturday
Leather embossing for beginners by Leroni
Leather working and embossing (hallmarking) are old crafts that were already used in ancient times and the Middle Ages to artistically decorate and shape leather. It is also interesting today, especially in cosplay, to replace artificial leather ("plastic leather") with high quality, durable, genuine leather. The basic course includes an introduction to the basic principle of embossing. It teaches and explains which special tools are needed and the technical basics in detail. Participants work on their own piece during the workshop. Max. Max. 5 persons. Duration: approx. 2h. Contribution towards expenses 35€.
Publishing or self-publishing – the right thing for your book by CatMint
You have written a book. Or you are almost finished. Or you are thinking about writing a book. Or you're already diligently procrastinating and thinking about what you'll do with your work then – either way, there's a lot to consider when publishing a book. For many, one of the biggest questions is, "Publisher or self-publishing?" I can't make that decision for you, but I can talk to you about pros and cons. The costs you'll face, the dos and don'ts, and what else there is to consider. You will have the opportunity to ask your individual questions and expand your network to other writers.
Drawing cute Chibis Characters by kiwiaste – ENGLISH
Learn the basics of character design as well as tips and tricks for creating cute "chibi" drawings. This workshop will be held in English. PLEASE BRING YOUR OWN DRAWING MATERIALS!!! (paper, pens, usw.)
K-POP Random Dance by UNLXMITED
Swing your hips to the coolest K-POP hits! At UNLXMITED RANDOM DANCE CHALLENGE, we'll make you and your moves shine. Together we will rock the dance floor for 2 hours and turn it into a pulsating K-POP hotspot. Whether you are a beginner or an experienced dancer, what counts here is the fun of dancing. Grab your friends, let's party together and feel the fascination of K-POP. Don't miss the chance to be part of the K-POP RANDOM DANCE phenomenon and ignite the stage together with UNLXMITED!
Duration: 2h.
Cosplay armor & props: the art of crafting by CaptainGhostly
Discover the art of crafting at this exciting and educational workshop+panel combination featuring seasoned cosplayer, CaptainGhostly. He will provide invaluable insights and tips to help develop your skills. Each attendee will receive free materials to create their own unique item to take home. Whether you're a beginner or experienced crafter, this panel/workshop is designed to suit all levels.
Whether you're a beginner or experienced crafter, this panel/workshop is designed to suit all levels. Don't miss out on this unforgettable experience provided by CaptainGhostly and cosplayshop.be!
Sunday
Embossing leather for advanced by Leroni
In Workshop 2, the embossed workpiece from Workshop 1 will be used to show how to dye and sew. Those who have not attended Workshop 1 will be provided with an unembossed workpiece. Cost 35€ Duration approx. 2h, Max. 5 persons.
Create your own crochet patterns by Monotachi
Do you like to crochet, but somehow you never have the right pattern ready? In this workshop you will learn the basics of creating and noting simple patterns. ogether we will then try our hand at making a sample pattern. I am looking forward to working with you ! Fee 10€ Duration approx. 1h, Max. 10-15 persons.
Gamemastering – Tipps und Tricks
Are you a game master and looking for solutions for tricky situations? Do you want to make your game world more interesting and exciting? Maybe you have problems to solve at the game table that are not related to the actual game, but more to your fellow players.
Then this workshop is exactly what you've been looking for! With my many years of experience as a game master, I can give you good advice and arm you with the necessary confidence to master any challenging game situation that may come your way. In our exclusive game master:inside workshop everything revolves around YOUR questions and concerns. We focus specifically on the problems you've experienced at the game table and work together to find customized solutions to take your roleplaying rounds to the next level.OriginalGermanThen this workshop is exactly what you've been looking
Manga and webtoon drawing with Clip Studio- Yunuyei
Want to draw and publish your own manga/comic, but don't know how?
Then you've come to the right place! In this talk, I'll show you how to create your own manga and/or webtoon using Clip Studio. Starting with page formats, paneling, to rasterizing, lettering and creating print files, as well as the most common sources of errors, you will learn everything you need to know to create your first manga/webtoon with Clip Studio.
Duration approx. 1 1/2 h.